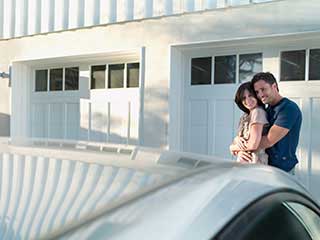 Just like that, it's Valentine's Day again! A romantic occasion that means many different things to many different people. You might find it to be the marker for the season of true love and romance, it could be a marker for another year gone-by, or it could simply be another day for you and your family. Regardless of what Valentine's Day means to you, your garage door gives you a few perfect ways to express or celebrate your love this season. So, if you are feeling loved-up and festive, here are a few unique ways that you can make the most of your doors this Valentine's day.
A Great Way to Express Your Love
What could be more romantic on Valentine's Day than arriving home to garage door panels that have been creatively decorated with cupids, roses and hearts, prepared with care by your love to brighten up your day? Festive occasions are always a great excuse to decorate your doors so that you can show your loved ones and neighbors your more romantic side, and Valentine's day is no different. Why not consider using Christmas lights to set the mood and create something memorable. You could even decorate it with magnet stickers, cards, and banners expressing love and festivity. Your door's panels provide the perfect creative space for you to be expressive this season of love.
A Provider of Absolute Privacy
Move the car, shut the automatic opener and put some chairs, a table and some soft lighting with candles or fairy lights in your garage to create the perfect secluded dining area this Valentine's day. Creating a special and private place that is out of the ordinary is a great way to surprise your love with something special. Your garage should be able to provide you with ample space to create a truly romantic setting (perhaps after a bit of a sweep), and your garage door can either be closed to give you the seclusion needed to make the occasion romantic, or can be opened to enjoy fresh air and a night sky while you dine with your true love. So why not consider dining somewhere unique, special and comfortable this Valentine's day by converting your garage into the perfect romantic dining space.
Don't Forget About Their Protection
Amidst the flurry of carefully worded cards, boxes of chocolates, bouquets of stunning flowers and feelings of love and romance, it can be easy to forget about your door's most important functions. Protection and privacy are the specialty of your electric garage door, so why not take this season of romance to fall in love with your doors again. Remember that they are there to provide your family and property with protection against the elements, to keep intruders out. You might even find that this Valentine's season is the perfect opportunity to keep up with garage door maintenance. While it might not be the most romantic idea, it is the perfect time to get your year's upkeep done in one shot.