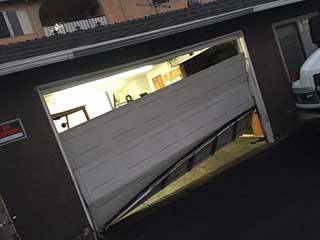 It's always smart to get professionals to address different unexpected problems with garage doors. Finding that suddenly your opener can't work or the spring broke can create a major obstacle for your daily plan. And these problems can often be dangerous when mishandled. But with the experts on garage door repairs near Coon Rapids available for same-day service solutions daily, you've got options for quick fixes on any day of the week.
Got a Broken Garage Door Spring Near Coon Rapids?
Get it replaced as soon as possible, to avoid other parts getting damaged. You see, opening a garage door with broken springs causes more stress for the opener, cables, and other parts. The springs carry the vast majority of the weight and also serve as a counterbalance. Ever wondered why you can lift a garage door that weighs around two hundred pounds or more like it was full of feathers? The springs are why. Of course, broken spring replacement does present real risks if you've never done it before and lack the experience. With help from Garage Door Repair Coon Rapids, you can get broken springs replaced right away with no extra delay.
Quick Garage Door Opener Repairs and Troubleshooting
Serving as the main driving force of the system, the opener has been known to experience problems on occasion due to a variety of causes. The combination of mechanical parts and electronic components in the opener logic board makes it possible for malfunctions to occur. LiftMaster garage door opener troubleshooting will differ from other brands like Genie, Chamberlain, and others. But with skilled technicians possessing over ten years of experience repairing garage door openers, you can get troubleshooting done in no time at all. Leave it to our Coon Rapids opener repair service specialists to apply the quickest fix for any problem that crops up.
Garage Door Repair Emergency Solutions
Always get in touch with local garage door repairmen when you've got problems you need solved fast. Our team prioritizes same-day solutions and helps customers deal with broken springs, track misalignment, opener troubles, and what have you. Our many years repairing garage doors saw us deal with all sorts of big and small problems. So when you need a helping hand, call us and get quick assistance from the top garage door repair techs near Coon Rapids.