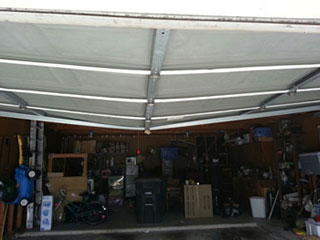 Our garage door repair company is made up of skilled and experienced technicians who are here to assist you with restorations and replacements at home. We only work with spare parts from trusted manufacturers, so we have exactly what you need to ensure that you can keep using your door safely while continuing to make life more convenient for you and your family. Here is a little bit more about the various repair services that we can offer you today.
Replacing Tracks, Springs Brackets and Bearings
Many of the most crucial components in your door will be damaged over time. This can happen due to weathering, in the case of rust or galvanic corrosion. It can also come from wear and tear from consistent use or harsh environments, or even simple accidents could render them inoperable. When this happens, it can have a negative effect on the use and safety of your door. If you have a problem, contact us to have brackets, tracks, bearings or garage door springs repaired or replaced.
Testing and Restoring Safety Features
Our technicians will assist you with ensuring that you use your door safely by testing its safety features such as the sensors, reverse function, and safety cable. Should the condition of these components undermine the safety of your door, we will immediately begin working to restore it or repair garage door parts when the need arises.
Garage Door Repair Services for Openers
Our team will take care of your automatic door's needs too, by replacing and repairing garage door openers and their associated components such as receivers. We source stock and spare parts from leading manufacturers such as Sears and Chamberlain, assuring that you receive only the highest quality opener parts on the market.
Contact our Team for Details
For further details on our garage door repair and replacement services, feel free to contact one of our technicians at Garage Door Repair Coon Rapids today for further information. With our experience and craftsmanship, you are sure to restore your broken doors and automated systems once more.
We also offer the following services:
Liftmaster Chain Drive Lubrication
Opener Sensor Replacement
Garage Door Cable Replacement
Torsion Spring Adjustment