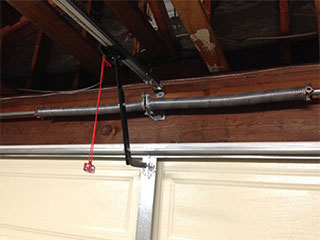 One of the most common calls for help we get is to repair or replace broken springs. It's an indication of just how critical this component is to the everyday functioning of your garage door, and we want to make sure that you get the best use out of them for years to come. Our technicians are equally trained to diagnose and repair torsion and extension springs, and we handle every project professionally, taking care to find the correct size for your door. We use the best equipment and adhere to industry standards of quality in every job we do.
Emergency Garage Door Spring Repair & Replacement
Did you hear a loud bang coming from your garage? Can you hear your garage door opener straining to operate the door? Is your door closing too quickly and in an uncontrolled manner? All of these signs point to a problem with your springs, and you need to have them repaired or replaced in a hurry. We respond to emergency repairs within minutes of your call. Our technicians keep your safety in mind by ensuring that the work area is secured before removing the broken or damaged parts and installing the new springs. You can have confidence that your garage door will be working like new once we're done with it!
Preventative Maintenance
The daily demands that we put on our garage doors are rigorous. Even if you only use your garage twice a day, those cycles of opening and closing add up quickly over the course of a year. This is the reason why we recommend having your door checked annually. A yearly check prolongs the life of your garage door springs and identifies issues before they become critical. Our service includes a thorough inspection, and we make proper adjustments to the spring tension.
Quality Replacement Parts
We know that when you buy spare parts for your garage door, you want to be sure that they're durable. Given the critical role of garage door springs, it's even more important to ensure the replacements you get won't compromise the functioning and quality of your door. We source our replacement parts from well-known, reliable suppliers who keep high manufacturing standards. We guarantee every spring we install, so you can have peace of mind when it comes to the components and the quality of our work.
Garage Door Repair Coon Rapids puts all your spring repair worries to rest. Contact us today!
Looking for more? We also offer:
Roll up Garage Door Maintenance
Belt Drive Garage Door Openers
Torsion Spring Adjustment
Overhead Door Installation