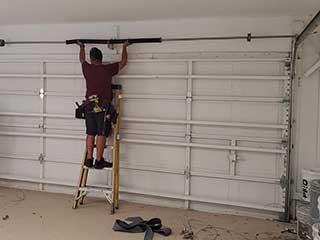 Somehow, garage door springs always seem to break down exactly when it's the biggest pain in the neck. It's almost like they plan it, somehow. Opening a garage door with broken springs puts the other, more expensive components at risk. It can even be hazardous to your health! Don't worry though. With Garage Door Repair Coon Rapidse's short-notice services, you'll teach those springs a lesson by replacing them right then and there!
Garage Door Springs Broke – Now What?
You should avoid opening your garage door if you suspect a spring is broken unless it's a real emergency. Without the springs providing a counterforce to the heavy door, you might ruin your opener and lift cables making them try to lift it. Replacing an opener is a much bigger hassle than replacing a pair of springs, and a much more expensive one! Furthermore, using a garage door with a broken spring can put you and your family in danger because of flying pieces or falling doors. The best thing to do is call for professional help and not touch your garage door in the meantime. To avoid this inconvenience, you might want to keep track of your springs' age and replace them when they're getting on there before they break.
Replacing a Garage Door Spring
Changing garage door springs, broken or otherwise, is a job for experts only! The same tension that makes garage door springs dangerous during a breakdown makes them even more hazardous if you're handling them directly. In fact, amateur garage door spring replacement attempts are a leading source of major domestic injuries. If you don't have the training necessary to do it safely, you're best off leaving it to the professionals.
Broken Spring Repairs Throughout Coon Rapids
We have skilled Coon Rapids garage door spring replacement technicians with over a decade of experience waiting to hear from you. If you need a spring repaired or a new unit installed, we make service emergency service calls on the same day you contact us, even on weekends and holidays. Don't let garage door spring malfunctions ruin your day or even your week! Call and get your door opening and closing again like nothing ever happened.